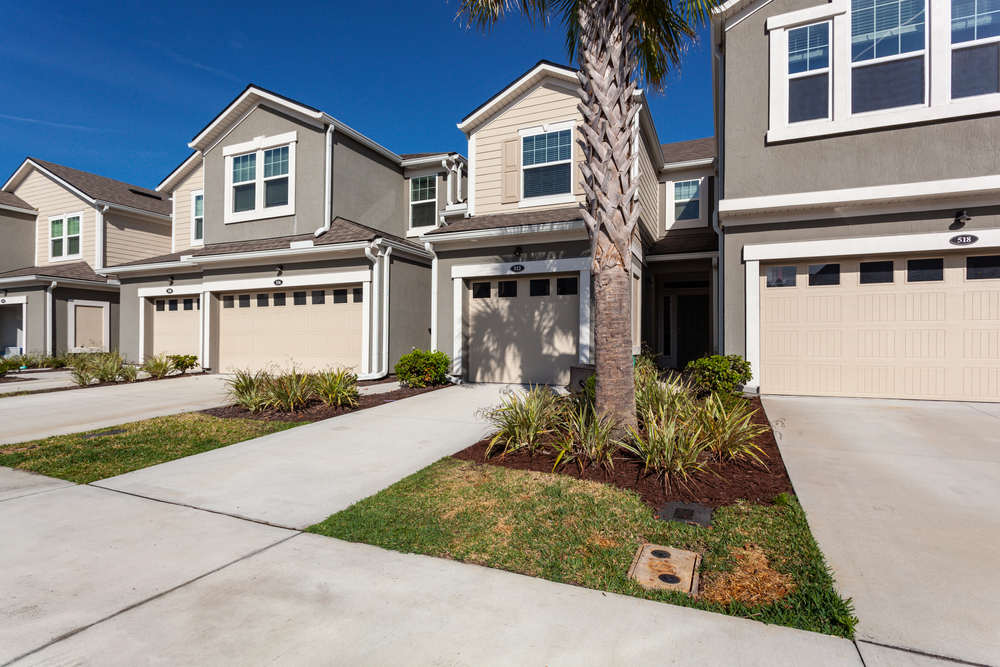 Residential properties that are in the state of California are set within different area zones. One of these zoning areas is known as Residential, Multi-Family Zoned Properties. Multifamily residential is a housing type where there are more than one family residing in several dwelling units within the same building, or several buildings within the same property complex. As commonly seen in different cities around California these units can be next to each other, or on top of one another depending on the structure of the architectural design. California has now established a law that approves ADUs for Multi-Family properties. Lets understand what these rules and regulations are according to the state of California regarding ADUs in Multi-family Zoned Properties.
Types of Multi-Family Properties
There are different types of multi-family properties in which one might be similar to yours. Let's discuss and learn about each type.
Duplex is a house with two floors in which different families live on either floor. A main entrance into the housing structure is possibly shared between both families, apart from the main entrance each family has their own entrance to their separate dwelling units. Duplex can also be existent as two individual units next to one another within the same property.
In a similar understanding a triplex or a quadplex is a house bigger in size with more than 2 units, specifically speaking three or four separate units within the same house structure.

Townhouses are known to be multi-family properties which are separate dwelling units that are sold and bought independently. Their structure is quite interesting as they are attached to one another and share an exterior wall, but each of these units have their own private entrance. Townhomes can often be seen covering a whole block, they're its own little community in away.

Semi-detached homes are known as Multi-Family Properties and they are quite similar to townhomes, the only difference is that they contain only two dwelling units.

Apartment complexes are also considered as multi-family properties and sure enough they also qualify to have ADUs according to the state of California.
Rules & Requirements
The rules have become more specific and complex when it comes down to ADUs in multi-family properties compared to single-family dwellings. These projects are not cheap at all in price, its important to understand that these projects are not as simple as remodeling a kitchen or bathroom. These ADUs or also known as accessory dwelling units main purpose is to accommodate an individual, a couple, or a family to reside in. In other words, we're talking about a complete separate home structure apart from what is already existing in the property. If you're interested in building an ADU in your multi-family property, here are some important details to be informed on so that your ADU project process goes without a hitch.
Zoning of my property affect anything? Your property must be residentially zoned in order to build an ADU, the type of residential zoning(R1,R2,R3,etc.) does not interfere or matter. As long as its residential it is totally fine, this includes single-family dwellings.

What determines a dwelling as multi-family? Specifically, its really not the type of property, or the size of the lot, or the zoning area. What really matters is the existing structure in the property. Well, what does this mean? As stated in the beginning, a structure or property must have 2 or more dwelling units attached to one another to be considered multi-family. If there is a property that has 2 or more dwelling units, but they are not attached then they are not considered multi-family. The main point here is that the property must have 2 or more units that are attached to one another, whether it be side-by-side or top of another.

What are the number of ADUs allowed on multi-family property? Local jurisdiction must allow the property owner to build atleast one ADU within the existing space of the primary structure in the property. Or the other option which is to build two detached ADUs on the property. A detached ADU is completely separated from the main multi-family structure. Believe it or not some jurisdictions allow multi-family property owners to do both, an ADU within the main structure and two detached ADUs separated from the structure. In most cases, if you were to go with the second option the detached ADUs from the main multi-family structure have to be separated from one another as well, independent units. There's many possibilities in regards the number of ADUs allowed in apartment complexes. Its very important for your contractor or designers to make it a priority in researching the specific regulations according to jurisdiction.

What are the size requirements for these ADUs? No matter what California jurisdiction you are in, detached ADUs can be from 320sqft up to 800sqft in size, with less than 16 feet high and 4 foot rear and side yard setbacks. If you have an unoccupied garage in your multi-family property the state of California is now allowing to convert the garage into an ADU. Such great news for multi-family property owners. Want to know more about your specific case? Please don't hesitate in giving us a call here at CGH Solutions®. With great pleasure, we'd like to assist you.