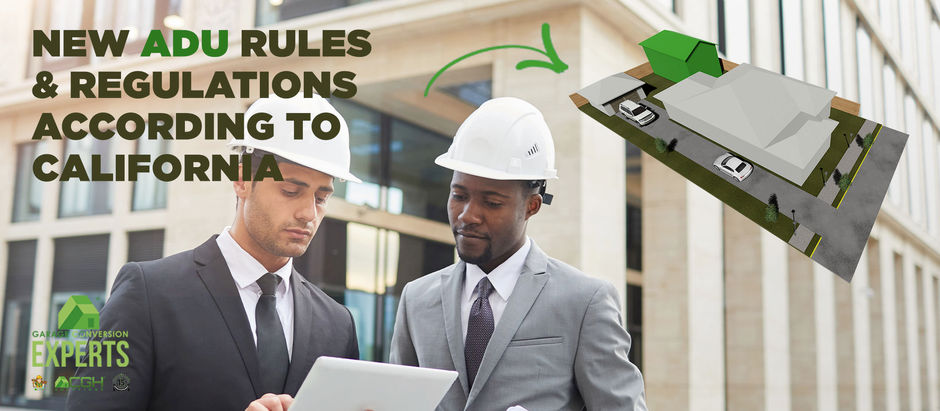 An ADU (Accessory Dwelling Unit) can be the ideal project for someone who is looking for an additional monthly income, providing housing to family and friends, plus an increase value of the property when it comes time to re-sell. What better way to invest than in your own property and receive a great outcome in return! Its important to be aware of the rules and regulations before you decide to build any ADU in your property since each state has their own unique guidelines to follow, some may be more strict than others. Good news is that the State of California has compromised in allowing homeowners to build different types of ADUs in their property with less complications and more ease. Here is what you need to know about California's new ADU rules and regulations.
The honest truth is having an unpermitted ADU in your property is definitely not recommended to anyone, you should always make sure that all living units within your property are legal by code. Legalizing Unpermitted ADUs can be possible with the correct process. One of the main changes to California's ADU rules is that you now have the ability to bring your unpermitted ADU up to code within five years. Although it may see like a long process, its possible.
The approval timeframe for permits on ADUs added within single-family and multi-family homes was 120 days which was quite a long time. Now, cities in the state of California must contribute by approving or denying within 60 days of receiving the application. This helps speed up the process of an ADU project because without the permits you really can't begin building anything, legally.
Before the new California rules were applied, ADUs were required to have one parking space in the property per unit. Its important to note that its no longer obligatory to include parking in your ADU house plans if the ADU is part of or within the main residence and is less than 1/2 mile from public transportation.
HOW MANY ADU's IN MY PROPERTY?
Cities in California are now allowing homeowners to add two ADUs on a single-family zoned property, or also known as R-1 zoning. Both an ADU whether its attached or detached and a JADU (Junior Accessory Dwelling Unit) can be added to a single family dwelling. In other words, you could have a 3-unit property, also known as triplex within a single-family lot. Both of these kind of projects have to be done legally. Its also important to keep in mind that these units, JADU and ADU can be rented, but not sold individually.
Multiple ADUs can now be added to existing multi-family buildings like apartment complexes. This means having the possibility of adding two detached ADUs on a multi-family lot. Now, homeowners can also convert any non-habitable rooms, like garages and attics into legal additional living units as well.
Setbacks for ADUs have now been reduced to 4' pertaining to the side and rear yards.
Cities in California can no longer charge impact fees for ADUs under 750 sq. ft.
Impact fees for ADUs larger than 750 sq. ft., meanwhile, shall be proportional to the size of the ADU in relation to the primary dwelling.
Be sure to remember that each City and County may be completely different in reference to the rules and regulations of ADUs, meaning that the new ADU laws in the cities or county of California may not match that of the State. If you consider yourself being interested in adding an ADU to your property, CGH Solutions® can help and guide you the whole way through, from beginning to end. We are a home improvement company that specializes in ADUs, Additional Units, Garage Conversions and have been faithfully serving the entire Southern California for over 15 years.
Our purpose has always been and will continue to be, improving your home, improving your life!